Virginia is a state steeped in centuries of history, from the founding of Jamestown in 1607 to the Civil War battles that raged across its soil. This long history has left behind countless ghosts and spirits that are said to still roam certain areas today. For thrill-seekers and paranormal enthusiasts, Virginia's haunted trails offer the chance to encounter these unsettled souls firsthand.
In this guide, we'll spotlight seven of the most famously haunted trails across Virginia and let you know the prime times to visit and what ghosts you might meet along the way. We'll also provide tips to help ensure your hike is fun and safe as you venture into Virginia's spookiest natural spots.
High Bridge Trail – Farmville, VA
The High Bridge Trail in Farmville has a dark history, as it was once part of the South Side Railroad that transported Confederate troops and supplies during the Civil War. A key Confederate supply line, the bridge was burnt on April 6, 1865, by Union troops to prevent further provisions from reaching the rebel forces.
Today, the High Bridge Trail is said to be haunted by the souls of fallen Civil War soldiers. Phantom gunshots, voices, and footsteps are often reported along the trail, especially around the 120-foot tall High Bridge itself. Brave night hikers have also reported seeing ghostly apparitions that disappear when approached.
The best times to visit are in the late evening hours at dusk or after dark for the best chance at a paranormal encounter. Be respectful if you do experience any unusual activity and remember these are the spirits of fallen soldiers from a war long ago.
Bristoe Station Battlefield Heritage Park – Bristow, VA
This park preserves the hallowed ground of two major Civil War battles that took place here in 1862 and 1863. There are still earthworks, trenches, and bullet marks on the trees left over from the battles that took place. With so much bloodshed here over those two days in history, it's no wonder this battlefield is said to be haunted.
Visitors and staff have reported seeing ghostly figures dressed in Civil War uniforms around the battlefield. Strange lights, sounds of gunfire, and the shrieks of injured soldiers have also been heard late at night. The paranormal activity is said to increase around the anniversary dates of the battles.
To potentially encounter these Civil War ghosts, visit the battlefield at night and walk trails past monuments marking key points of battle. Areas near the mass graves of fallen soldiers are also hotspots for hauntings. Exercise respect for the spirits that still linger around this hallowed battleground.
Natural Bridge Trail – Natural Bridge, VA
Deep in the woods surrounding the Natural Bridge, several trails pass by an old cemetery and the ruins of an abandoned hotel said to be haunted by its former owner. Hikers have reported seeing ghostly figures wandering among the gravestones in the cemetery and hearing strange voices and music coming from the ruins of the hotel.
The paranormal activity seems to spike at night, making late evening the best time for a haunting hike through these trails. Headlights and flashlights may malfunction along the trail, so come prepared with backup light sources in case your lights mysteriously go out. Keep your eyes peeled for any ghostly figures lurking along the trail, especially near the cemetery and hotel ruins.
Fairy Stone State Park Trails – Stuart, VA
The hiking trails winding through Fairy Stone State Park are peppered with deposits of staurolite stones known as "fairy crosses." According to legend, these cross-shaped stones are tears shed by fairies and their presence has imbued the surrounding forest with supernatural energy.
Hikers have reported equipment malfunctions and batteries draining for no reason along certain trails. Strange fog banks, eerie glowing lights, and barely audible whispers seem to emanate from the depths of the forest. The feeling of being watched by an unseen presence is also common.
To maximize your chances of encountering fairy magic, hike late in the evening when the forest is quiet and shadows abound. Trails leading to the staurolite deposits are hotspots for supernatural occurrences, as well as misty ponds surrounded by thick forests. Keep your wits about you and be prepared for otherworldly trail encounters.
Cape Henry Trail – Virginia Beach, VA
Running through First Landing State Park near Virginia Beach, the Cape Henry Trail passes right by the historic Cape Henry Lighthouse. Dating back to 1792, the lighthouse is rumored to be haunted by a young red-haired girl named Abigail, whose spirit lingers here waiting for her father to return from a shipwreck.
Hikers have spotted her ghostly figure in the lighthouse windows or wandering the nearby shoreline. Her high-pitched giggles and the pitter-patter of her footsteps are also occasionally heard along the trail, especially at dusk and nighttime. The scent of freshly baked bread may lead you right to an encounter with this lighthouse ghost.
To potentially spot her, hike the trail just before sunset and keep watch around the lighthouse and shoreline as darkness falls. Be friendly if you encounter her ghost – she's just a lost little girl waiting centuries for her father.
Walney Pond Trails – Chantilly, VA
Near the scenic Walney Pond in Ellanor C. Lawrence Park, there are several wooded hiking trails said to be stalked by the ghost of a young woman in white. Rumored to be the spirit of a distraught maiden who drowned herself here centuries ago, she now roams the area searching for her lost love.
Hikers report hearing mournful wailing and catching glimpses of her apparition floating through the trees along the hiking paths, especially on foggy nights. The sound of splashing and gurgling sometimes emanates from the pond itself. If you're seeking a romantic spot to potentially encounter this grief-stricken ghost, Walney Pond should be on your paranormal bucket list.
Devil's Bathtub Trail – Scott County, VA
Living up to its ominous name, the hiking trail leading to the Devil's Bathtub in Scott County is said to be prowled by shadowy apparitions and strange glowing orbs of light. Hikers also report equipment failures, battery drain, and a feeling of being watched by an unseen entity in the forest.
Paranormal activity is concentrated near the unique natural rock formation known as the Devil's Bathtub, a cave-like basin formed by Meadow Creek. Hike here late at night when the area is deserted and quiet to increase your odds of encountering something supernatural along this spine-tingling trail.
Tips for Hiking Haunted Trails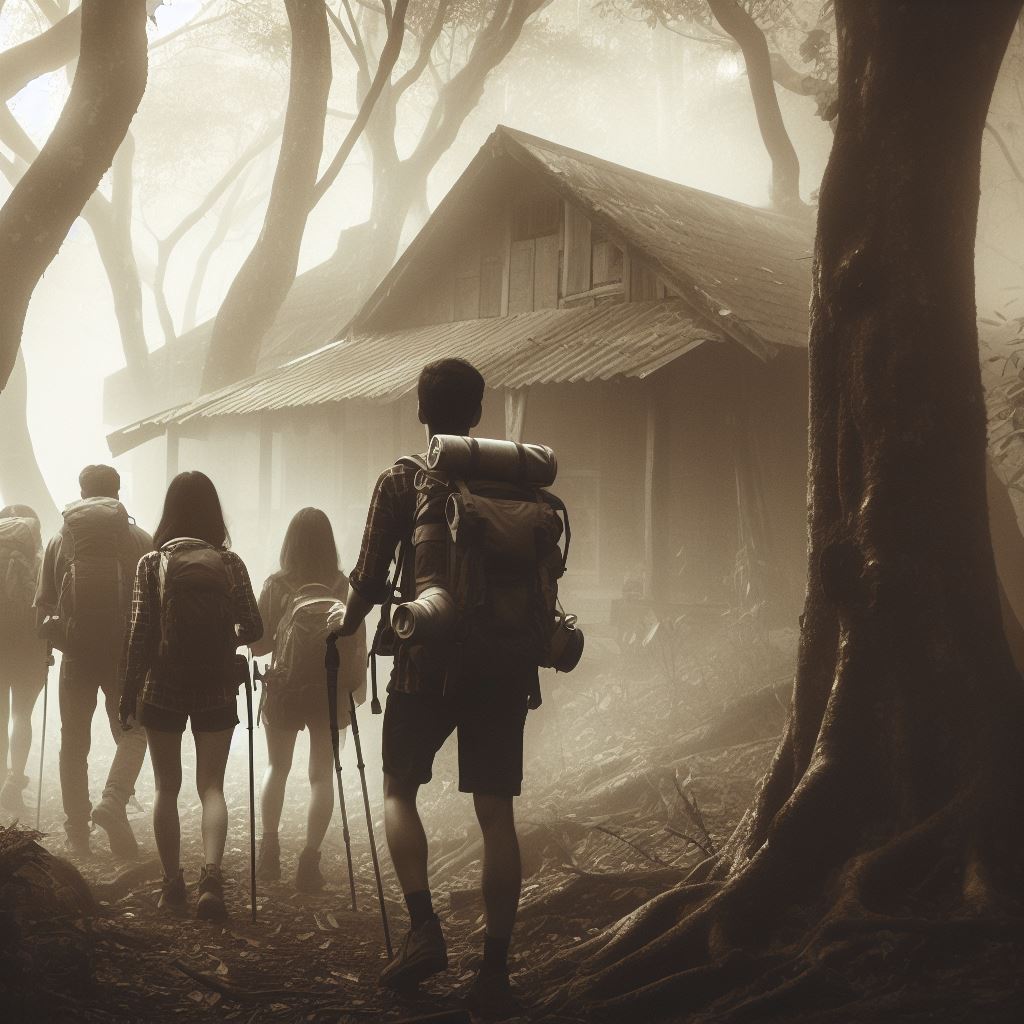 If you're seeking thrills and paranormal encounters on Virginia's most haunted hiking trails, keep these tips in mind:
Hike in groups and stay on marked trails. Don't stray alone into dark isolated areas.
Let someone know your planned route and expected return time.
Bring flashlights, backup batteries, maps, and supplies in case you get lost or injured.
Use caution at night around abandoned buildings, cemeteries, or cliffs.
Get permission if hiking on private property. Many trails cross historic sites.
Be respectful of any paranormal activity. Refrain from provoking spirits.
Stay calm if encountering a ghostly presence. Don't run or make sudden moves.
Follow all park and trail regulations – some prohibit night hiking.
Don't trespass or break laws to access haunted areas.
Document any paranormal encounters, but don't interfere with spirits.
Change your path or turn back if you feel unsafe or are overwhelmed.
Frequently Asked Questions About Haunted Hiking
What should I do if I encounter a ghost on the trail?
Remain calm. Don't try to touch, disturb, or communicate with the spirit. Give it space and allow it to move on. Document the encounter if you can do so safely, but do not pursue or antagonize the entity.
Is it safe to hike haunted trails alone?
It's not recommended. Stick to well-marked trails in daylight if hiking solo. At night or on isolated trails, go with a group for safety. Tell someone where you'll be.
What equipment should I bring on a haunted hike?
Good maps, flashlights with spare batteries, food, water, a first aid kit, light sources, and a cell phone or GPS device in case you get lost. Make sure to wear suitable footwear as well.
What are some good precautions when hiking potentially haunted trails?
Be prepared with your route and supplies. Follow all posted rules and trail markers. Stay on the trail and steer clear of hazardous areas. Don't taunt or anger spirits. Stay with your group.
What are the best times of day to encounter paranormal activity on haunted hikes?
Paranormal encounters tend to increase after dark when fewer people are around. Dusk, midnight, and the very early morning hours just before dawn are prime times. But don't hike remote trails alone at night.
Where can I find more information on Virginia's haunted hiking trails?
Historic sites, parks departments, visitor centers, tour companies, and paranormal investigation groups are good resources. Online searches can also yield more details on ghostly activity associated with specific trails.
Is ghost hunting permitted on public hiking trails?
Generally, no. Use discretion and follow all park policies. Casual hiking is fine, but leave ghost hunting gear at home and don't disturb the peace or damage any protected historic sites.
Explore Virginia's Haunted Trails and Let the Spirits Guide Your Way
For paranormal enthusiasts, Virginia's haunted hiking trails offer thrilling opportunities to encounter ghosts firsthand. By using caution, respecting spirits, and following sound hiking practices, you can safely seek out haunted hotspots across the state.
Just be sure to come prepared with nerve and wits – because, on these eerie trails, you never know what apparition might appear around the next bend. Let us know if you experience anything supernatural on your journey through Virginia's ghostly trails. Happy haunting!