New Jersey is home to some of the most terrifying and unique haunted houses in the United States. As Halloween approaches, adrenaline junkies and horror fans get ready to face their fears at New Jersey's famous haunted attractions.
From elaborate haunted hayrides to disturbing asylums, there is a haunt for every thrill seeker. Read on for an in-depth look at the best haunted houses New Jersey has to offer for the 2023 Halloween season. We'll cover what makes them stand out, what you can expect, locations, pricing, dates and more. Brace yourself for the ultimate guide to NJ's most spine-tingling haunted houses!
What Makes New Jersey's Haunted Houses So Great?
New Jersey has earned a reputation for housing some of the scariest and most impressive haunted attractions in the country. What makes NJ so great for haunts?
Highly Detailed Set Designs
Many of New Jersey's famous haunts employ Hollywood set designers and special effects artists to create elaborately themed environments inside their houses. No detail is spared in constructing settings like abandoned asylums, creepy hotels, twisted carnivals and more to fully immerse visitors in the frightening experience.
Film-Quality Special Effects
From animatronics to digital sound effects, many of NJ's haunted houses incorporate advanced technology and special effects for added realism and scares. Fog, lighting, animatronics, moving floors and objects bring the experiences to life.
Talented Actors
The creepy characters lurking within NJ's haunted houses are typically professional actors, not volunteers. Their commitment to staying in hair-raising character enhances the scare factor.
Prime Location
New Jersey's proximity to New York City and Philadelphia makes it easily accessible to major northeast cities and their populations of potential Halloween thrill-seekers.
Let's explore the specific attractions that make NJ a top Halloween destination!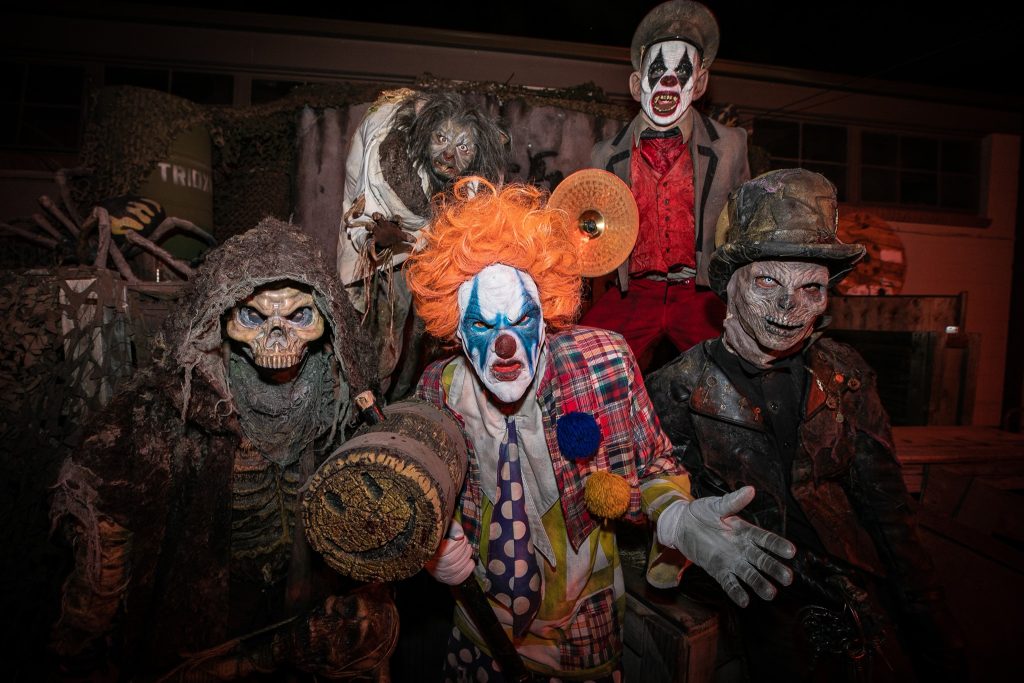 Location: Lodi, NJ
Highlight: 3 intense haunted attractions in 1 location
Dates: Select nights, September 16 – October 31
Price: $20-$42
Consistently ranked among America's scariest haunts, the 13th Floor Haunted House packs three separate attractions into one terrifying location. General admission tickets grant access to all three:
Hotel of Horror – An abandoned hotel containing creepy rooms, a cemetery, and a vortex tunnel
Haunted Asylum – A disturbing mental institution with demented doctors and medical experiments
Circus of Fear – A twisted circus containing clowns, freak shows, mirrors and mazes
What makes 13th Floor stand out are its elaborate Hollywood-quality sets that transport you into environments straight out of your nightmares. Prepare for detailed decaying walls, moving floors, appearances by horrifying creatures, and an overall psychological terror. The 13th Floor employs professional actors and designers to make it one of NJ's preeminent haunted attractions.
Brighton Asylum
Location: Passaic, NJ
Highlight: Extremely realistic old asylum setting and medical horrors
Dates: Select nights, September 15 – November 4
Price: $20-$60
Named one of the scariest haunted houses in the U.S., Brighton Asylum follows the story of a century old tuberculosis hospital that once conducted unethical medical experiments. Today, the tormented souls of the hospital's victims still lurk the abandoned halls, morgue, and rooms.
Brighton Asylum is located in a authentic century-old building that adds to the frightening ambiance. Once inside, you'll traverse between decaying wards, medical rooms, and an actual crematorium. Highly-detailed medical equipment, x-rays, and examination tables make the scenes unnervingly realistic. Demented doctors, nurses, and creatures jump out when you least expect it. This extreme haunt is not recommended for anyone under 12 years old. Brighton Asylum is terrifyingly convincing and consistently voted NJ's best haunted hospital attraction.
Bane Haunted House
Location: Livingston, NJ
Highlight: Unique sets across 4 acres including a haunted hayride
Dates: Select nights, September 23 – October 31
Price: $30-$60
Bane Haunted House encompasses both indoor and outdoor scare attractions across 4 acres of land. Their haunted hayride sends you on a 20-minute tractor ride through the terrifying woods and corn mazes, dodging horrors around every turn.
Inside, you'll traverse surreal 3D rooms, a dizzying vortex tunnel, and a chilling mine shaft 25-feet underground. Bane's detailed sets and deranged actors provide nonstop frights combined with advanced lighting, digital effects and animatronics. The attraction culminates at the Hideaway Lounge where you can relax and compare heart-pounding stories of survival over food and drinks.
Nightmare on the Boardwalk
Location: Point Pleasant Beach, NJ
Highlight: Terrifying haunt located on the actual NJ boardwalk
Dates: Select nights, September 9 – November 5
Price: $20-$55
Imagine being trapped on an abandoned, creepy boardwalk occupied by sadistic clowns, evil dolls, and sinister sideshow acts. That's the premise behind Nightmare on the Boardwalk, considered one of the scariest boardwalk attractions in the country.
The haunted house is strategically positioned on Point Pleasant Beach's boardwalk overlooking the Atlantic Ocean. Its seaside location enhances the ominous ambiance as waves crash in the background. Brace yourself for bloodcurdling scares inside from ghoulish boardwalk characters who jump out when you least expect it. The oceanfront views make this a one-of-a-kind haunted house experience.
Field of Screams
Location: Mount Holly, NJ
Highlight: Massive outdoor haunted complex spanning 50 acres
Dates: Select nights, September 23 – November 5
Price: $30-$55
Consistently ranked among the best outdoor haunts in the U.S., Field of Screams encompasses 50 acres of terrifying experiences including:
Haunted Hayride – A 25-minute tractor ride through the haunted woods dodging deranged characters.
Den of Darkness – An elaborate haunted house with detailed sets and chilling themes.
Frightmare Asylum – An outdoor asylum with escaping inmates traversing the property.
Nocturnal Wasteland – A trail through apocalyptic scenes in the woods.
Ghost Hunt – An interactive game where you shoot ghosts with laser tag guns.
Beyond the haunted attractions, Field of Screams also offers carnival rides, zombie paintball, food, games, bonfires, and more. The massive scale and variety make this an iconic NJ haunt not to miss.
Night of Terror
Location: Cranford, NJ
Highlight: Detailed set designs that immerse you in the frightening scenes
Dates: Select nights, September 30 – October 29
Price: $20-$40
This indoor haunted house is located in a century-old building that sets the creepy atmosphere. Night of Terror excels at transporting visitors into storylines and environments that feel like living nightmares. Scenes like a circus big top, a graveyard crawling with zombies, and a decrepit asylum characterize each section of the haunt.
Elaborate set decorations, props, animatronics, lighting, and sound effects make the scenes convincingly terrifying. Expect monsters and crazed characters to catch you off guard around every turn. Night of Terror changes themes each season to keep thrill seekers coming back year after year. It's an immersive haunted experience renowned for its innovative designs.
Are Haunted Houses Safe?
Haunted houses may seem scarily realistic, but most operate with high safety standards to ensure both customers and performers stay injury-free. Here are some common safety practices NJ haunts implement:
No-touch policies: Actors are instructed not to make physical contact with visitors and will maintain reasonable distance.
Trained professionals operate hazardous effects like fog machines.
Group sizes are controlled through timed ticket entries to prevent crowding or bottlenecks.
Staff monitor queues and attractions for emergencies and have protocols in place.
Safety briefings with rules are given before entering attractions. For example, no running.
Security personnel and cameras provide added supervision and prevent unsafe situations.
So while NJ's haunted houses aim to scare with immersive realism, extensive behind-the-scenes measures ensure everyone stays safe to enjoy being frightened!
What to Expect at NJ Haunted Houses
If you're brave enough to visit a haunted house this Halloween season, here's an overview of what you can expect:
Wait times: The most popular NJ haunts attract long lines, so prepare to wait 1-2 hours on busy nights. Arriving early and on weekdays (Thursdays in particular) cuts down the queues. Buying "speed passes" also allows quicker entry.
Safety briefings: Before entering an attraction, staff provide instructions outlining rules to ensure your safety and enjoyment. Common guidelines include no touching characters, sticking with your group, and no running. Pay attention to these!
Jump scares: Haunted houses are designed to creep you out with a sense of dread, then hit you with sudden scares when you least expect them. Jump scares are meant to catch you off guard and make you shriek! The actors know how to time them for maximum fright.
Intense environments: Many NJ haunts use jarring sounds, disturbing visuals, tight spaces, darkness, and disorientation techniques to enhance the scary atmosphere. Prepare for intensity!
Not recommended for kids: While some haunts are family-friendly, most major NJ ones carry age restrictions or parental guidance recommendations. These extreme attractions are geared toward thrill-seeking adults and older teens.
Food, drinks, and chill zones: Many haunted house complexes include concession stands, full bars, and hangout areas so you can refuel and calm down between attractions.
Now let's dig into the details on dates, operating nights and ticket pricing so you can plan your perfect night of haunted house thrills in NJ!
When Do New Jersey Haunted Houses Open?
Most of New Jersey's major professional haunted houses open in late September and remain operating select nights through late October and sometimes into early November. Here are the typical opening dates in 2023 for NJ's top haunts:
13th Floor Haunted House – September 16
Brighton Asylum – September 15
Bane Haunted House – September 23
Nightmare on the Boardwalk – September 9
Field of Screams – September 23
Night of Terror – September 30
Opening nights are often the least crowded of the season if you want to be one of the first to experience the new attractions without long queues. Late October, especially the weekends surrounding Halloween, tend to be the busiest nights.
What Days Are New Jersey Haunted Houses Open?
You can only survive NJ's premier haunted houses on select nights when they are operating and scaring. Most open on the following days:
Fridays & Saturdays: The most popular nights, expect peak crowds and longest wait times.
Sundays: Typically open and a bit less crowded than Fridays and Saturdays. Arrive early.
Thursday:Least crowded night at most haunts, especially later in October. Best for shorter wait times.
Halloween night: The scariest night of them all! Extremely busy with queues over 2 hours long. Arrive very early or expect to wait. Often open until 1-2 AM on Halloween.
Additional nights: Some NJ haunts add extra operating nights in October, like Thursday and Sunday, due to demand. Check individual websites for full calendars.
Most haunted houses are closed Monday through Wednesday except for special openings around Halloween. Avoid sold out nights by buying advance tickets online when possible.
How Much Are Tickets to New Jersey Haunted Houses?
Ticket prices for New Jersey's top haunted houses range from about $20 on the low end to $60 for premium options. General admission tickets typically run $20 – $45 depending on day, time, and online vs in-person purchases. Here's what to expect:
General admission: $20 – $45
VIP/Front of line: $50 – $75
All-access passes: $50 – $80
VIP and front of line tickets allow faster entry and shorter wait times. All-access passes grant admission to multiple attractions at a given haunt location.
Buying tickets online in advance typically offers discounted pricing versus purchasing at the door. Print or show your online ticket to redeem entry. Admission is CASH ONLY at most haunted house box offices so come prepared.
Some helpful tips for saving money on NJ haunted house tickets:
Purchase online for lower prices
Attend on Thursday or Sunday nights
Look for coupons and promo codes online
Follow social media for flash deals and contests
Buy combo attraction passes to save
With strategic planning, you can experience premier NJ haunts on a budget. Don't miss out on all the scares this Halloween season!
Top 10 Tips for Visiting Haunted Houses in NJ
Ready to survive New Jersey's most intense haunted houses? Use these pro tips to maximize thrills, minimize wait times, and enjoy a smooth visit:
1. Purchase tickets in advance online
Buying ahead online saves money and lets you reserve entry for busy nights. Print tickets or show on your phone.
2. Arrive 30-60 minutes before scheduled entry
This ensures you're here for safety briefings and entry on time.
3. Visit on off-peak nights
For shorter lines, aim for Thursdays or Sundays and avoid Fridays and Saturdays near Halloween.
4. Travel in small groups
Groups of 2-4 move quicker through attractions than large packs.
5. Wear comfortable shoes
You'll be on your feet for hours, so skip the heels and dress for walking and running.
6. Eat before entering
Many haunts don't allow food inside. Grab dinner beforehand so you don't get hungry waiting in line.
7. Use the restroom
The waiting and scares can take hours, so use the restroom before entering attractions.
8. Bring cash for food and games
Most haunts require cash at concessions and game booths. ATMs have high fees.
9. Don't wear bulky costumes
Costumes that limit visibility or mobility increase scare risk and prohibited. Opt for face paint instead.
10. Stick together!
It's easy to get separated from your group in dark winding paths. Hold on tight!
Halloween Haunted House Safety Tips
While NJ haunted houses prioritize safety, visitors should exercise common sense as well. Here are some key tips for staying safe:
Do not run inside haunted houses. It's disorienting and you risk accidents or injuries.
Follow all staff instructions. Their rules exist for your protection.
Keep your hands to yourself. Don't touch props, sets or actors.
Watch your step in dimly lit or uneven areas to avoid falls.
Stay with your group. Don't wander off alone into dark paths.
Let staff know if you have medical conditions like seizures, asthma or heart conditions.
Report injuries or issues immediately to staff. Most have EMT personnel on standby.
Avoid touching your eyes and mouth in haunted houses. Carry hand sanitizer.
Enter at your own risk! Though rare, you may risk being hurt if you move recklessly.
Haunted houses allow you to face fears and thrills in a controlled, safe environment. Following rules and using common sense keeps it entertaining.
What to Know Before Visiting Haunted Houses in New Jersey
Here's a quick checklist of what to know before visiting New Jersey's top haunted houses:
Buy tickets ahead of time online – Prices are cheaper and you'll secure entry on busy nights when they may sell out at the door.
Check the recommended age – While some haunts are family-friendly, most major ones suggest ages 12+ or might not allow young children.
Arrive 30-60 minutes early – To ensure you get through security and ticketing in time for your entry window.
No costumes or face paint – For safety reasons, you likely can't wear bulky costumes or makeup inside. Simple face paint should be ok.
No bags or purses – Most NJ haunts don't allow bags for security reasons. Leave everything secured in your car.
Prepare to wait – On peak nights like Halloween, plan for wait times over 2+ hours. Weeknights are lighter crowds.
Cash only for concessions & games – Hit the ATM beforehand because most food, drinks, and game booths are cash only at NJ haunts.
Going in with the right expectations makes your haunted house experience smooth, safe and thrilling. Don't miss out on the world-class scares NJ has to offer this Halloween!
Conclusion
As we've seen, New Jersey offers some of the most elaborate, terrifying haunted attractions in the United States. Top haunts like 13th Floor, Brighton Asylum, Bane, Nightmare on the Boardwalk, Field of Screams and Night of Terror push creative boundaries with detailed sets, Hollywood effects, and masterful scares.
Visiting one of NJ's legendary haunted houses is a must for Halloween lovers. The ability to safely face primal fears in extreme environments provides thrills you won't find anywhere else. Just be ready to scream!
We hope this guide provides everything you need to plan an incredible visit to New Jersey's haunted houses this season. Follow our tips to maximize frights and minimize wait times. Most importantly, embrace the horror and have a happy Halloween!
Frequently Asked Questions About NJ Haunted Houses
How old do you have to be to visit haunted houses in NJ?
Age limits vary by attraction, but most major haunted houses in NJ suggest ages 12 and up. Some state ages 16+ or require anyone under 16 to have a parent present. Check individual haunt websites for specific age policies. Extreme haunted houses are geared toward thrill-seeking adults.
Should I visit haunted houses alone?
It's not recommended to visit top haunted houses alone, especially for your first time. The scares can be jarring and it's easy to get separated from groups in dimly lit winding paths. Having friends or family with you adds comfort and accountability. Large groups over 6 can slow you down, so aim for 2-4 people.
How long do haunted houses take?
The average haunted house attraction takes 20-45 minutes to complete. However, waiting in line often takes 1-2 hours on peak nights. Plan to spend 2-4 hours for a full haunted house experience including parking, ticketing, lines, safety briefings and multiple attractions.
Should I pay extra for front of line access?
Front of line or VIP tickets let you bypass long queues and enter haunts faster. They usually cost $20-$30 more. For busy nights, this added cost might be worth skipping the regular 1-2 hour waits. If you only have one night to visit, paying extra to save time can maximize scares.