Halloween is an exciting time of year for kids. They love getting dressed up in costumes and going trick-or-treating for candy. Visiting a haunted house is another popular Halloween activity that kids look forward to. However, some haunted attractions are too scary for young children. The good news is many kid-friendly haunted houses provide just the right amount of silly scares and Halloween fun without traumatizing them.
What Makes a Haunted House Good for Kids
A truly family-friendly haunted house takes the fright factor down a notch to be enjoyable for both kids and parents. Here are some key features to look for in kid-centric haunted houses:
No overly graphic scenes or gory props
No menacing monsters that chase or touch visitors
More charming than the creepy atmosphere and decor
Bright enough to not be too dark and disorienting
Short wait times to keep kids engaged
Fun but not super startling surprises and thrills
A clear path through with no chances of getting lost
Child-height scares and decorations they can appreciate
Light-hearted music and sound effects
Costumed actors who are playful rather than scary
Haunted houses with these qualities allow kids to experience just enough age-appropriate thrills and chills while keeping fright levels minimal.
Top Kid-Friendly Haunted Houses for 2023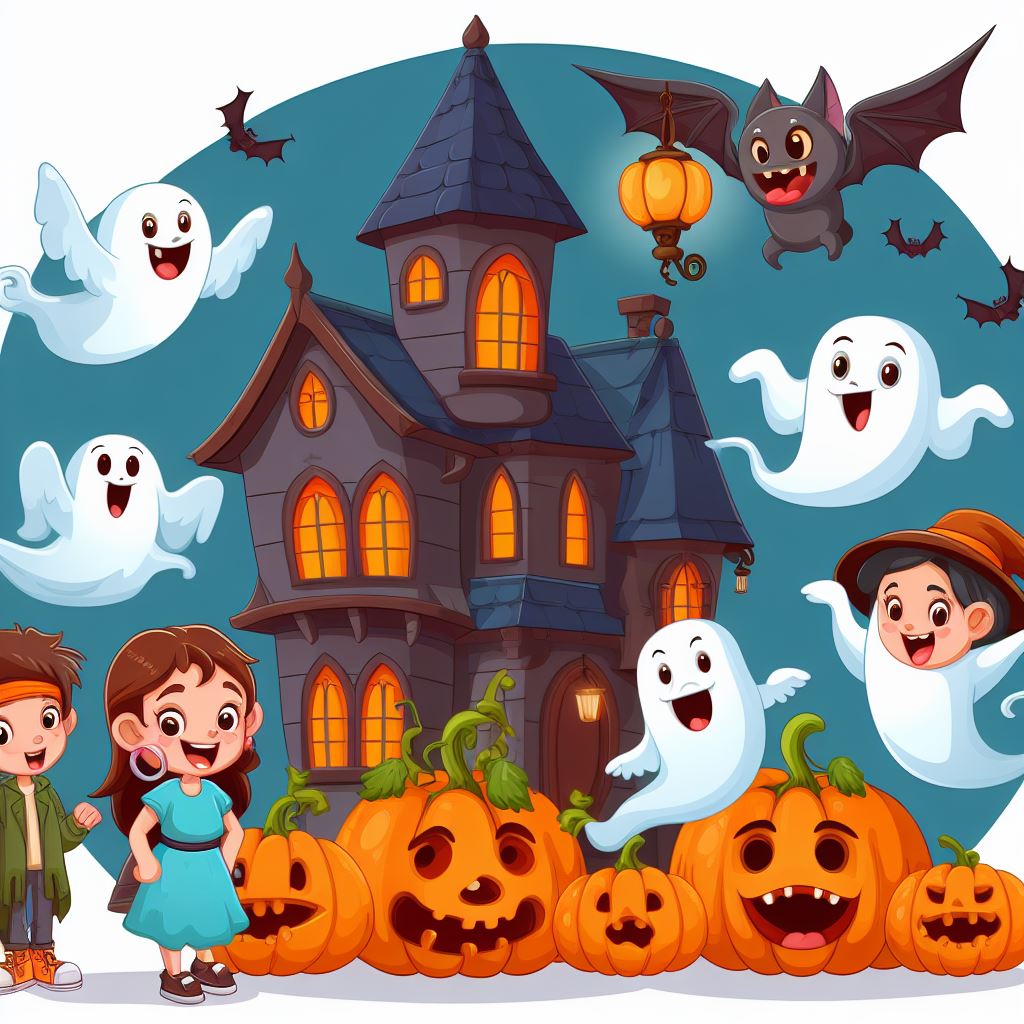 Here are some of the best and most highly rated haunted houses across the U.S. that promise to provide the ideal spooky-but-not-too-spooky experience for younger kids and families.
Boo at the Zoo in Indianapolis, Indiana
The Indianapolis Zoo puts a family-friendly Halloween twist on their exhibits and grounds with decorations, attractions, trick-or-treating, rides, shows, and child-friendly haunted houses.
Why it's great for kids: It takes place at a familiar zoo setting during daytime hours and offers lots of Halloween activities besides just haunted houses.
Pumpkin Hollow in Tulsa, Oklahoma
This daytime event has kid-oriented mazes, play areas, costume parades, magic shows, rides, and trick-or-treating spread out across several acres.
Why it's great for kids: It's much more than just haunted houses with pumpkin painting, rides, shows, bouncy houses, and other interactive activities to enjoy.
Spooky World in Litchfield, New Hampshire
Advertised as "scary for kids, terrifying for adults", Spooky World offers hayrides, pumpkin picking, kiddie haunted houses, live entertainment, rides, games, and more family Halloween fun.
Why it's great for kids: With four separate haunted houses ranging from silly to scarier, there are options tailored specifically for ages 4-7 and another for ages 8-12.
Night of a Million Lights in Give Kids the World Village, Florida
A whimsical haunted house village customized for young children with crafts, characters, rides, treats, and a million colorful lights creating a magical atmosphere.
Why it's great for kids: Located in a resort village just for critically ill children and their families, it offers gentle thrills and a truly kid-centric experience.
Headless Horseman Hayrides and Haunted Houses in New York
This popular attraction offers daytime events for young kids as well as scarier evening attractions for teens and adults. Kids can enjoy hayrides, corn mazes, shows, magic, rides, and their own special haunted houses.
Why it's great for kids: Their "Spooky Daytime Fun" events are designed specifically to be non-scary with kids haunted houses rated G and PG.
Ghostly Grove in Maryland Heights, Missouri
Themed areas featuring pirates, fairies, dinosaurs, wizards, and superheroes make Ghostly Grove an enchanting haunted experience for families with young children.
Why it's great for kids: Rides, bounce houses, games, characters in costumes, magic shows, pumpkin decorating, and trick-or-treating create a lively daytime Halloween haven for kids under 12.
Disney's Not-So-Scary Halloween Party
Mickey's Not-So-Scary Halloween Party in Walt Disney World provides exciting seasonal fun at Magic Kingdom without being too frightening for little ones.
Why it's great for kids: Disney characters in costume, trick-or-treating, fireworks, parades, Liberty Square with kid-centric spooky activities make it an ideal kid haunt.
Baltimore's Power Plant Live
Baltimore transforms Power Plant Live into a children's Halloween wonderland with crafts, carnival games, bounce houses, mini golf, haunted adventures just for kids, even a royal pumpkin patch ball.
Why it's great for kids: Every haunted house and activity is crafted specifically to be whimsical rather than scary for young ones to enjoy.
Camp Spooky in Galveston, Texas
Located at Schlitterbahn water park, Camp Spooky offers daytime Halloween fun like trick-or-treating, costume contests, haunted houses, rides, games, shows, and Creepy Crafts for the kiddos.
Why it's great for kids: It takes place at a familiar, cheerful theme park instead of a dedicated haunted house attraction.
Under the Pumpkin Tree in Issaquah, Washington
A bright patch filled with play areas, rides down pumpkin slides, magical forests, pumpkin painting, HayWho Maze, singing skeletons, bounce houses, carnival games, and festive treats.
Why it's great for kids: The colorful, playful decor and cheery Halloween characters create the perfect amount of fun mixed with just a touch of spookiness.
More Must-See Kid-Focused Haunted Houses
Beyond the major haunted attractions listed above, there are lots of great local and small-scale haunted houses catering to families with young children across the country each Halloween season. Here are a few more top-rated kid-friendly haunts to check out:
Witch House in Lancaster, Pennsylvania
Pumpkin Hollow in Scotts Valley, California
Safety Harbor Haunted and Happy House in Florida
Happy Jack's Pirate Cove Haunted Pirate Ship in Apple Valley, Minnesota
Cornbelly's Corn Maze and Pumpkin Fest in Utah
Screams at Canobie Lake in New Hampshire
Creation Station in Creation Museum, Kentucky
Pumpkin Nights in Oregon, New Hampshire, Florida, Denver, and San Francisco
Zoo Boo in Portland, Oregon & Boo at the Zoo in Louisville, Kentucky
Batman Legends of the Dark Knight Halloween Experience in Ohio
Pumpkin Path at King Family Farm in Arkansas
Legoland Brick-or-Treat Party in California, New York and Florida
Choosing the Right Haunted House for Your Kids' Ages
When selecting a haunted house for kids, pay close attention to the recommended ages. Some attractions promote a family-friendly experience but may have elements too frightening for very young kids. Here are some age guidelines:
Ages 5 and under: Look for "not scary" daytime events with play areas, trick-or-treating, rides, and pumpkin decorating. Scarier elements should be avoided.
Ages 5-8: Mild haunted houses with more fun than genuine scares are best. Look for ratings like G, PG, or family-friendly.
Ages 8-11: Kids this age can likely handle PG or PG-13 rated attractions, but use discretion based on maturity level. Opt for daytime hours.
Ages 12+: By this age, moderately scary PG-13 and R rated haunted houses are usually fine, especially for adventurous pre-teens. But know your child's limits.
Pay attention to any age, height, and sensitivity warnings to gauge what they can handle. Start mild, then work up to scarier.
Kid-Friendly Haunted House Safety Tips for Parents
Visiting a haunted house is thrilling for kids. But take some basic safety precautions:
Review safety rules and policies. Look for emergency exits.
Ensure attraction has age-appropriate options before visiting.
Keep track of your group at all times. Avoid getting separated.
Hold their hand tightly if they get easily frightened. Comfort them after.
Let kids wear costumes over clothes so they're not cold. Bring jackets.
Arrive early, especially on weekends. Avoid long lines that lead to crankiness.
Have a designated meeting spot if anyone gets separated from the group.
Keep costumes and props well clear of moving rides and attractions. Watch for trip hazards.
Follow all rules set forth by the haunted house actors and staff.
Ensure kids visit the restroom before entering so they don't get scared while inside.
By carefully choosing a haunt designed for kids and taking basic precautions, you're sure to have a scream-worthy good time this Halloween!
Frequently Asked Questions About Kid-Friendly Haunted Houses
Are there haunted houses safe for kids under 5?
Yes, many locations offer daytime Halloween festivals with play areas, trick-or-treating, rides, music, magic shows, costume parades, and activities specifically for toddlers and preschoolers. They avoid anything scary and focus on fun.
What precautions should I take with scared kids?
Prepare them for what to expect, hold their hand, comfort them after if needed, don't force them onto rides or attractions they don't want to do, and consider wearing younger kids in a carrier vest so they feel safe.
Should kids wear costumes to haunted houses?
Absolutely! Part of the fun is getting dressed up. Just make sure costumes aren't a tripping hazard, masks don't obstruct vision, and any props are allowed per haunt rules. Bring a jacket too in case they get cold.
How can I save money on kid-friendly haunted houses?
Many offer discounted advance tickets online. Search for coupons and codes. See if they offer "Kid Free" nights allowing 1 or 2 kids to enter free with a paid adult ticket. Also look for group rate discounts.
Are there haunted houses with rides for kids?
Definitely! Many larger theme park haunts like Six Flags Fright Fest offer children's rides tailored for the Halloween season to add even more festive fun. Mall haunts also often incorporate amusement park rides.
Can adults without kids attend kid-centric haunted houses?
Adults not accompanied by kids are generally permitted at most family-friendly haunts though a few may enforce age policies. Without children, adults may be bored at some very tame kid attractions. Check policies in advance before attending.
Make Trick-or-Treating More Exciting
Once the costumes are on, extend the Halloween fun beyond just collecting candy. Here are ways to make trick-or-treating more immersive and magical for kids:
Hand out mini toys, games, and Halloween trinkets, not just candy.
Decorate your home with cobwebs, skeletons, Jack-o-Lanterns, and other spooky effects.
Play ambient sounds of thunder, wolves howling, creaking doors.
Greet trick-or-treaters in costume yourself and stay in character.
Scatter fake spider webs and roaming animatronic critters around your yard.
Project Halloween silhouette scenes on windows, garage doors, and trees.
Add an interactive element like games on your driveway or sidewalk.
With a bit of extra effort, you can turn trick-or-treating into a truly immersive, exciting Halloween adventure kids will never forget!
Conclusion
Halloween should be thrilling for kids, but not so scary that it ruins the fun or leaves them traumatized. Fortunately, there are lots of great haunted house attractions designed just for families with younger children. These kid-friendly haunts balance age-appropriate scares with whimsical thrills.
Do your research to pick a haunted house that matches your child's maturity level. Focus on places with more magical charm than terrifying horror. And take basic safety precautions. By choosing a haunt wisely, you're sure to have a ghoulishly great time this Halloween that your kids will talk about all year long!